Crystal Clear HD
22" LCD Display with Full HD 1920 x 1080 resolution and 178 degree viewing angles

Stunning Color
16.7 million different colors, the glass panel display features Adobe sRGB and 6500K preset color standards.

Precision and Control
Draw precisely with 5080 lpi resolution. Capture any pen strokes with 8192 levels of pressure sensivity

Battery-Free Pen
The stylus requires no power, which means that you'll never need to charge internal batteries
PROFESSIONAL CRYSTAL CLEAR HD DISPLAY
ADJUSTABLE STAND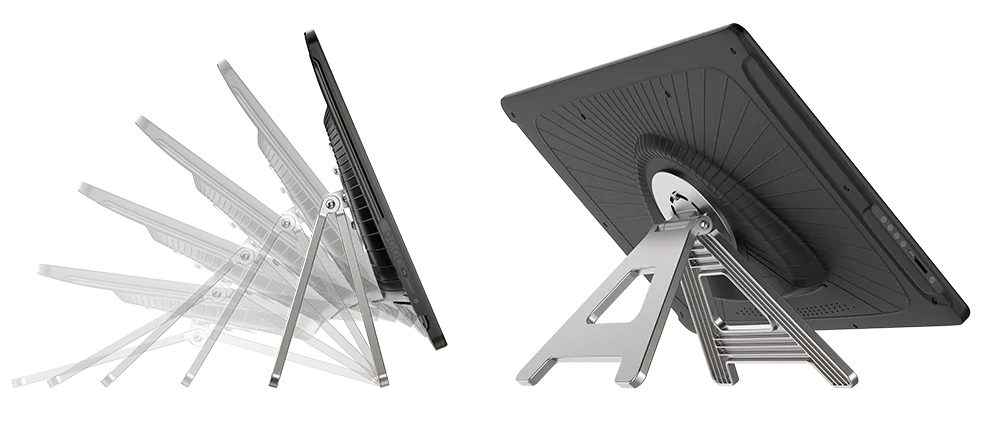 The locking stand allows you to adjust the screen angle from 20 degrees to 90 degrees, allowing you to quickly and easily position it where it is most comfortable for your working style.
STYLUS WITH PEN AND ERASER
Pressure-sensitive battery-less stylus provides natural, on-screen creative control and captures with the accuracy and precision of traditional art tools.
8192 levels of pressure sensitivity. The pen requires no power, which means that you'll never need to charge internal batteries. The lack of a battery means lighter weight and reduced hand fatigue from prolonged work sessions.

Pen & Eraser tips

No Batteries!

Pressure sensitive
HOW IT WORKS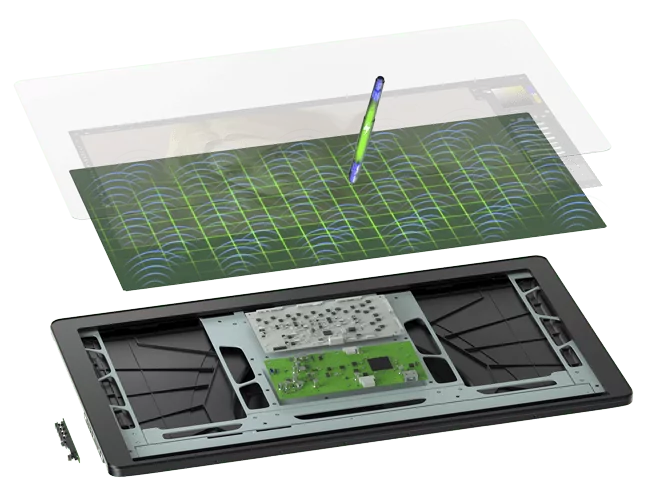 | | |
| --- | --- |
| 1 | Underneath the LCD, there is digitizer layer that emits and receives modulated RF energy |
| 2 | Pen captures RF energy to power its electronics and report its position |
| 3 | Digitizer array captures electromagnetic field and determines position of the pen |
| 4 | Digital data from the pen also contains pressure data and buttons status |
OUR TEAM PERFORMED
FULL CYCLE PRODUCT DESIGN
Technologies selection
R&D and Proof of concept
ELECTRICAL DESIGN
4 PCBs. 12 months of work
FIRMWARE
Thousands of lines of code
Digital Signal Processing in every module
SOFTWARE
Windows and Mac OS configuration tools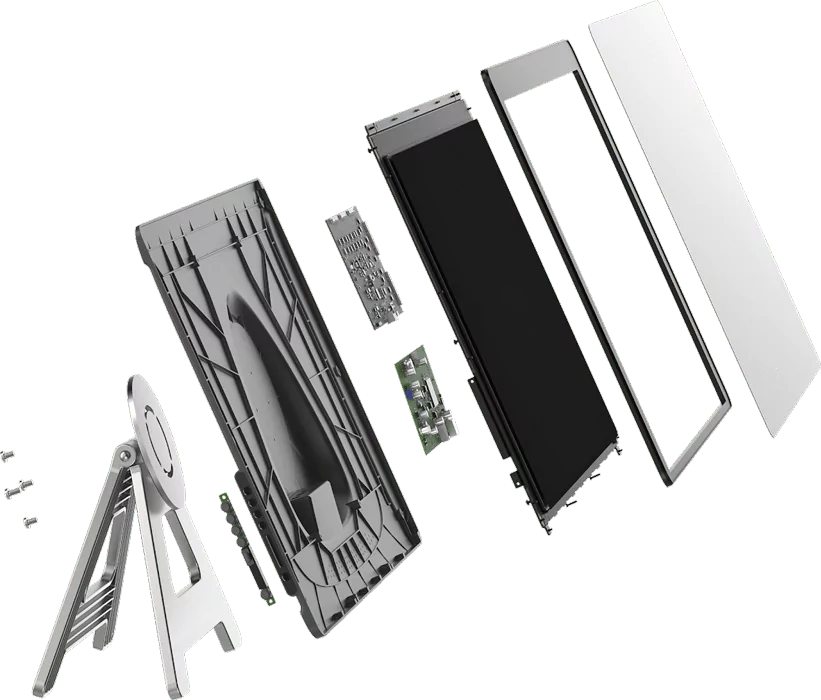 HARDWARE DESIGN We designed and validated 4x PCBs with impedance-control, High Speed lines, and Video interfaces
Radio Frequency (RF) waves: Perfect match and lack of EMI interference

USB compliant
DisplayPort and
HDMI video
FIRMWARE DESIGN TABLET
Proprietary position calculation algorithms. Written in C++, it does all sorts of Digital Signal Processing: Filtering, Averaging, Over-sampling, Harmonics extraction.
STYLUS
Low power and efficiency to enable battery-less operation. 8bit MCU is working in energy-saving mode and executes all operations in a fraction of a second upon waking up

Tablet:
Powerful 32-bit MCU
Stylus:
Low-Power 8-bit MCU