The Challenge
AJProTech has developed an innovative way to streamline the manufacturing process of IoT devices. The IoT platform is the result of the combined expertise of AJProTech engineers and is a fast and easy way to validate and assemble various types of sensors on our foundation. It is equipped with high-quality hardware and software, integration with displays and various sensors, and data transmission to the web and mobile applications.
This platform is designed to reduce production costs, speed up the process, and provide a secure and reliable product with a user-friendly interface and intuitive navigation. It can be customized to meet your needs and incorporates a variety of components, both wired and wireless connections, firmware, and software that are widely available and commonly used.
The solution
The IoT platform developed by AJProTech allows to quickly prototype electronic products, offering built-in BLE and WiFi connectivity, sensor data acquisition, audio playback and recording, ability to communicate over multiple industry-standard protocols and more. The platform is based on the extremely popular ESP32-S3 chip, which offers great performance and power efficiency.
With the help of the IoT platform development teams can reduce the time required to test product concepts from weeks to days. The IoT platform comes with an embedded software stack and mobile application templates that can be used as-is during prototyping, but can also be easily built upon to develop full scale commercial products.
main features
ESP32-S3-WROOM-1 (16R8)
Xtensa® dual-core 32-bit LX7 microprocessor, up to 240 MHz
16 MB of Flash, 512 KB SRAM, 384 KB ROM, 8 MB of PSRAM
Wi-Fi 2.4 GHz (802.11 b/g/n) with 40 MHz of bandwidth support
45 programmable GPIOs, SPI, I2S, I2C, PWM, RMT, ADC and UART, SD/MMC host and TWAI (i.e. CAN)
AES-XTS-based flash encryption, RSA-based secure boot, digital signature and HMAC
Acceleration for neural network computing and signal processing workloads
LCD WITH TOUCHSCREEN SUPPORT
Resolution up to 480 x 320 on SPI
Capacitive Touch on I2C
LVGL Support
OTHERS
Motor Driver (MAX1508)
User Buttons x4
Battery Charger (BQ24296MRGE) with Battery Protection (DW01-P)
Additional SPI Flash 256 MBit (W25Q256JVEIQ)
USB OTG
USB UART (CP2102)
Debug Support
Internal RGB x3
ADC-DAC
24-bit 8 Channel ADC (ADS1256IDB)
10-bit 8 Channel ADC (MCP3008-I/SL)
Audio Amplifier (MAX98357)
Audio DAC (CS4344-CZZ)
CONNECTIVITY
I2C Hub (PCA9547BS)
I2C GPIO Expander (PCA9535PW)
RS-485 x1 (MAX485)
CAN x1 (SN65HVD)
Transistor Array (ULN2003ADR2G)
Comparators x2 (LMV331IDBVR)
External RGB Chain
NFC (MFRC522)
SENSOR
Motion Sensor (ICM-42670-P)
Humidity & Temperature Sensor (SHT30-DIS-B)
MEMS Microphone x2 (MP34DT05TR-A)

IoT PLATFORM DIAGRAM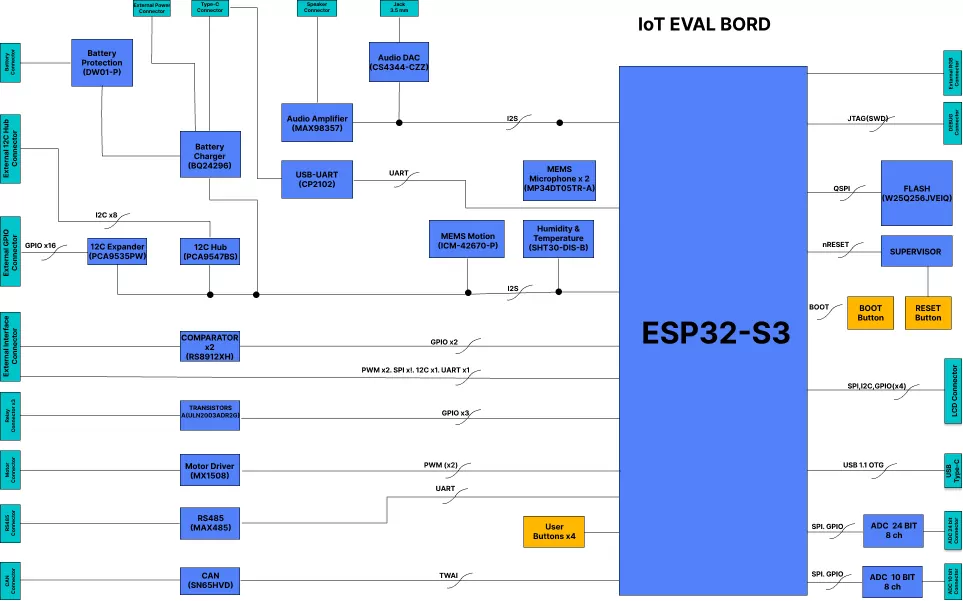 IMPACT
AJProTech unveiled their IoT platform at CES 2023 , garnering considerable interest from conference-goers and the press. The platform offered innovative technology that gave visitors a glimpse into the future of the Internet of Things.
Contact
us
United States
Headquarters
Los Angeles, CA
26565 Agoura Road,
Suite 200,
Calabasas, CA 91302
Taiwan
R&D and Manufacturing
New Taipei City
120 Nan Shi St.