3. HOW TO CREATE NEW HARDWARE PRODUCTS. FEASIBILITY STUDY. PROOF OF CONCEPT PROTOTYPES
Happy National Day of Encouragement!
We hope our series of educational videos about HOW TO CREATE NEW HARDWARE PRODUCTS will encourage you on the most interesting and challenging journey of your life – new product development!
Today we continue talking about FEASIBILITY STUDY and PROOF OF CONCEPT PROTOTYPES.
Previous part is HERE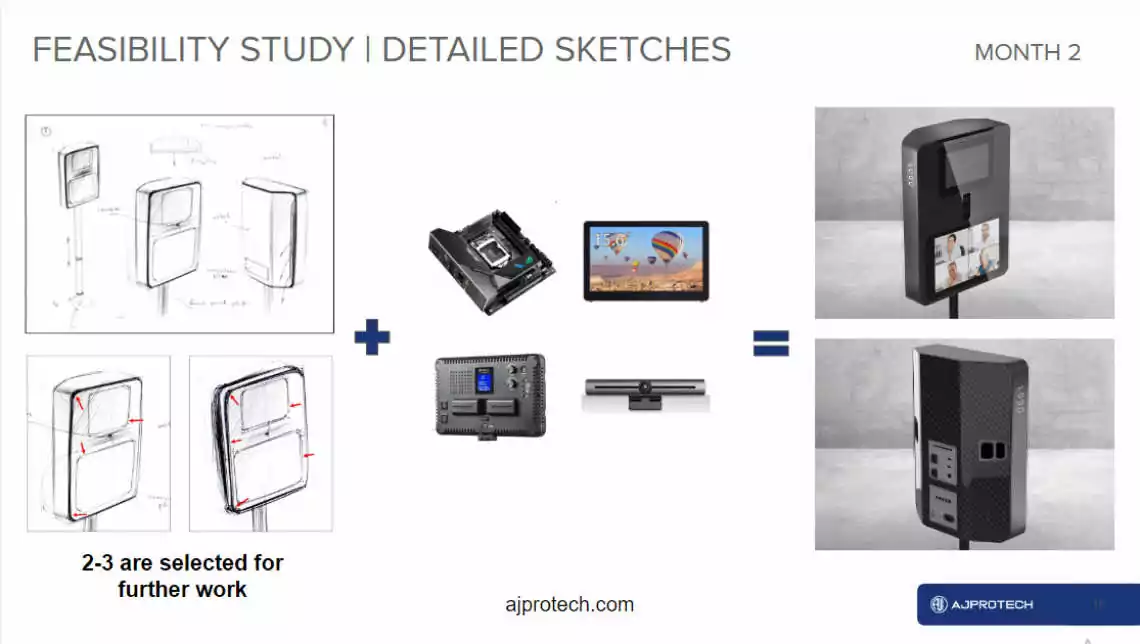 The next step is when an Industrial Design meets actual components.  It's time for us to visualize how they are going to fit into the product. We take 2 to 3 optimal sketches, and we go deep with the integration. At the end, we have set up high quality 3D renders, which can be used either for marketing and they can be used by mechanical engineers for further development. Once we know what you want to create, it's time to create something tangible: we call it "Looks Like Prototypes". They don't work but they are the same size and shape as the final device. Nothing gives you more clarity on the product than keeping it in hand.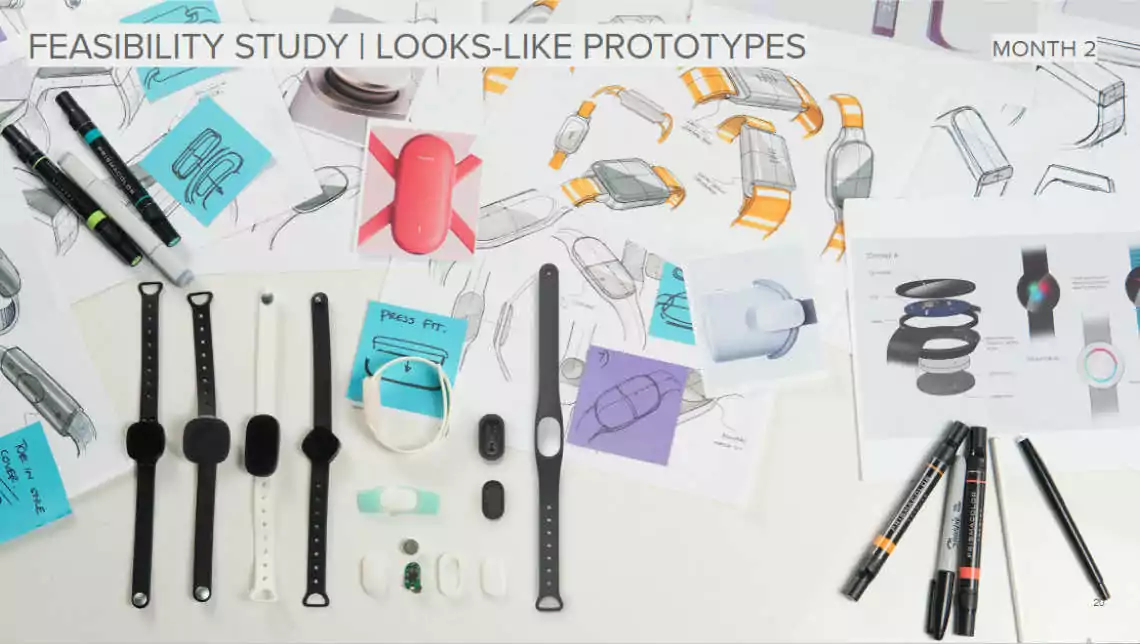 As you can see on this example of a wearable device, we've done over 10 various iterations of concept before we came up with a final shape and size, which everyone was happy with. "Looks-Like-Prototypes" is a quick way to validate your idea before you put a significant amount of time into engineering.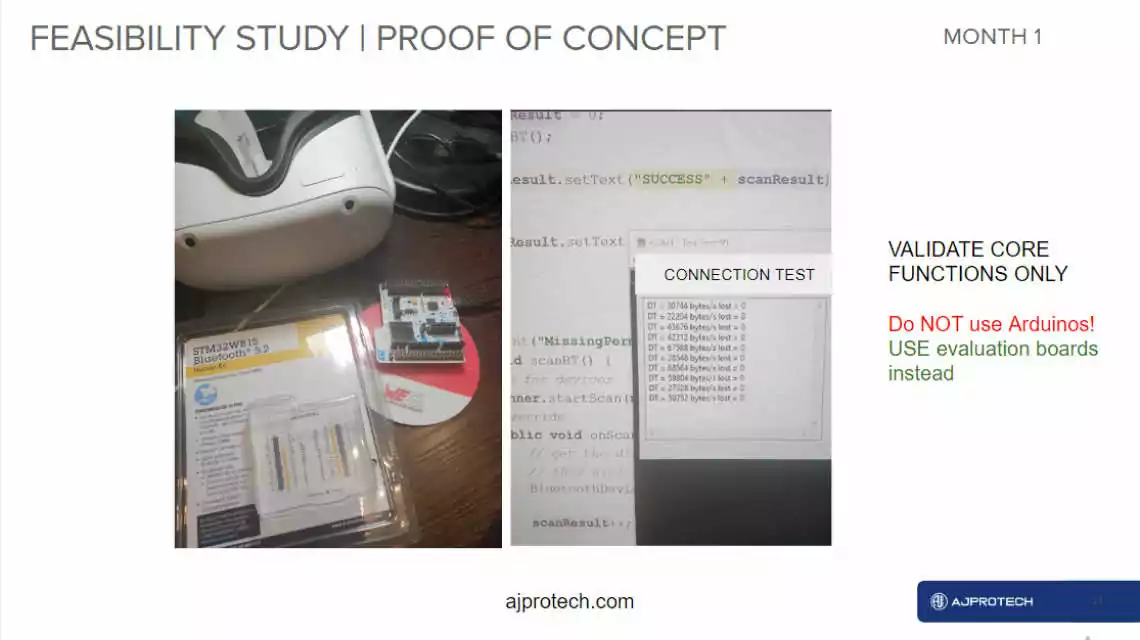 In parallel with "Looks-Like-Prototypes", you want to prove core technologies. If your product has any sort of connectivity, get an evaluation board, connect it, and read the sensor data from the device. Don't use the Arduinos at this stage, use evaluation boards. This is how you save a lot of time later on, just use evaluation boards which are closer to hardware you're going to use eventually.
On average it takes about 1 month to create such prototypes.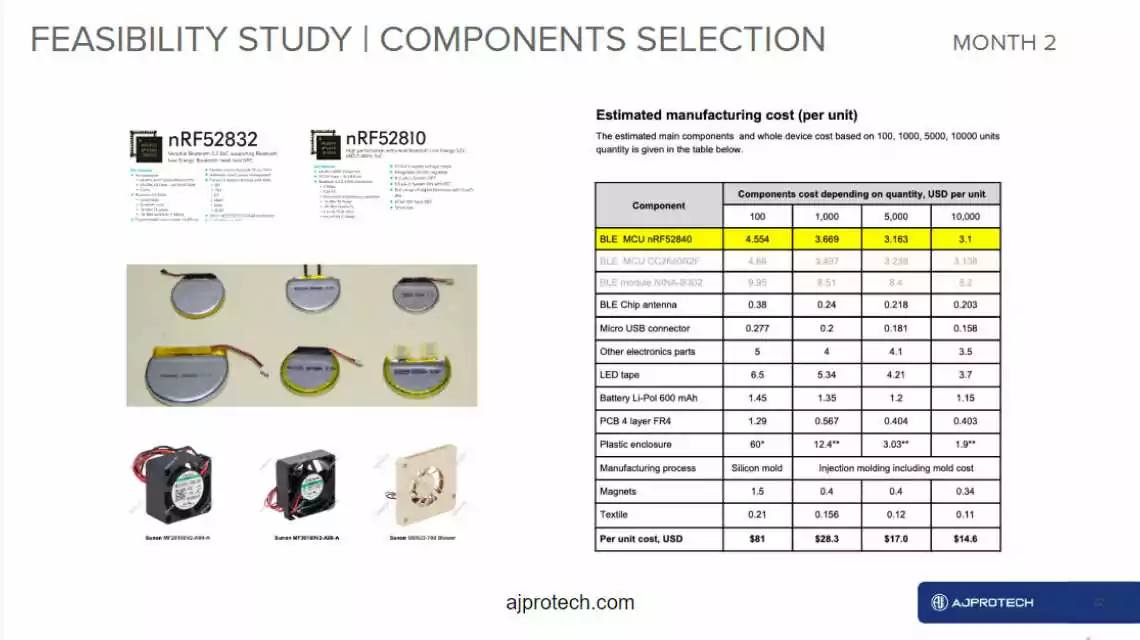 Next task is to select components. Before you put a significant amount of energy into engineering, you want to put everything you know about the product into a Bill of Materials and calculate the cost. You want to know how much is going to COST before you design an actual physical product.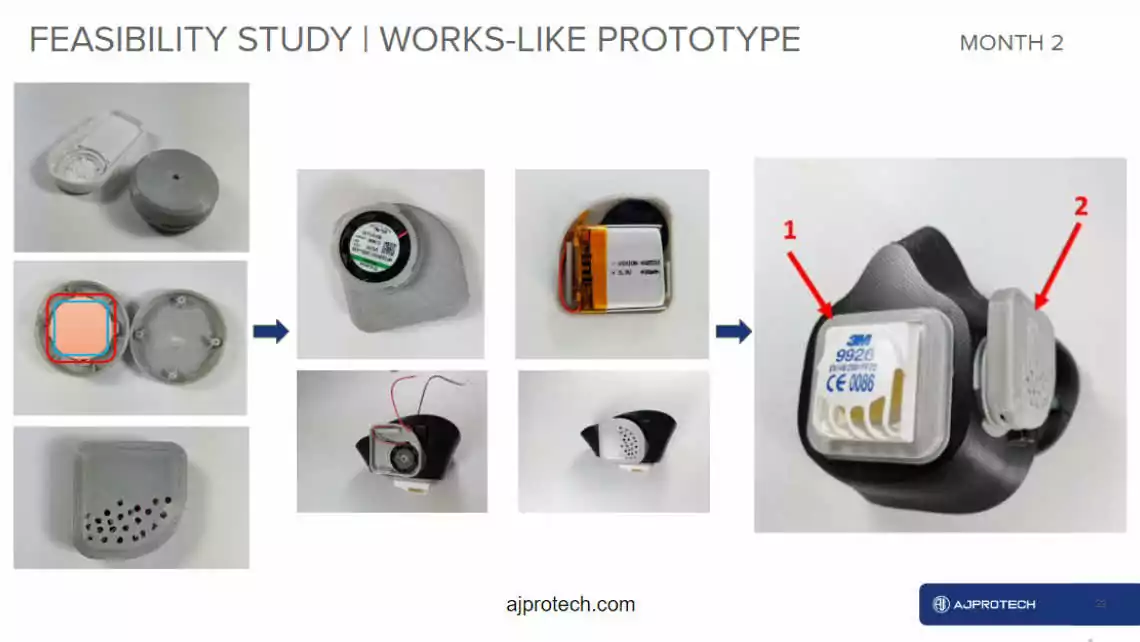 Sometimes if something in the product is unknown, how it's going to operate, it pays off to create a low fidelity working prototype. You may get a battery, get a fan, connect them together in a simple enclosure, and make sure the device works.
In this example, we worked with the mask which pulls the air inside. We actually tested if it was actually getting enough air.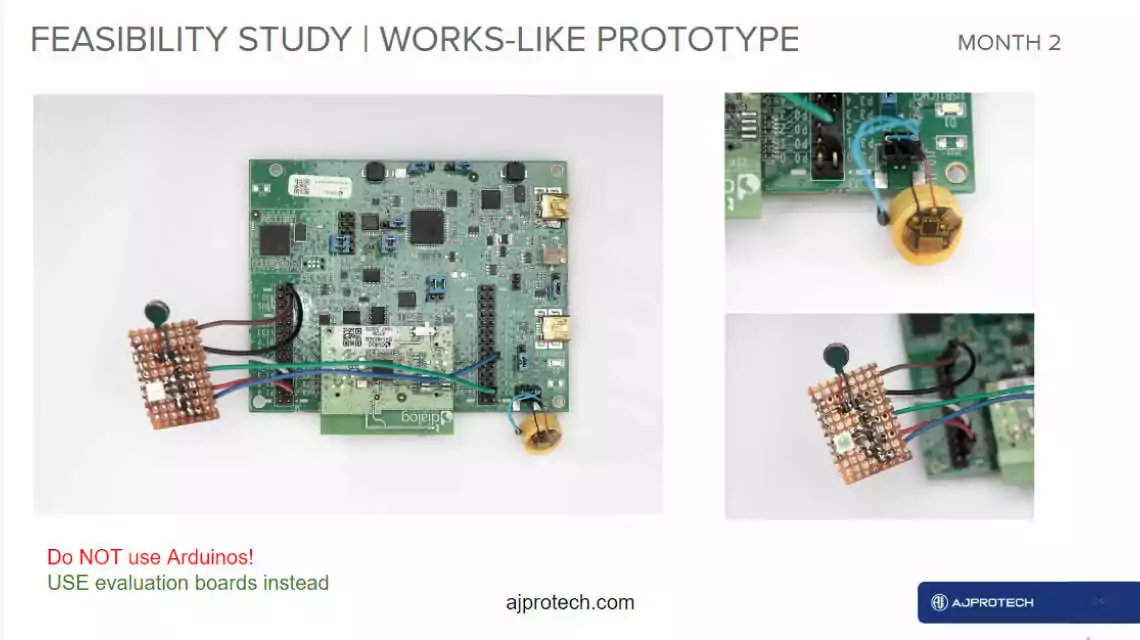 Sometimes when the product is really complex, it makes sense to get a couple of Evaluation Boards and connect them together. So you have the entire device functionality assembled on a table. This example is using evaluation boards and a set of wires to prototype the product before we go designing engineering prototypes.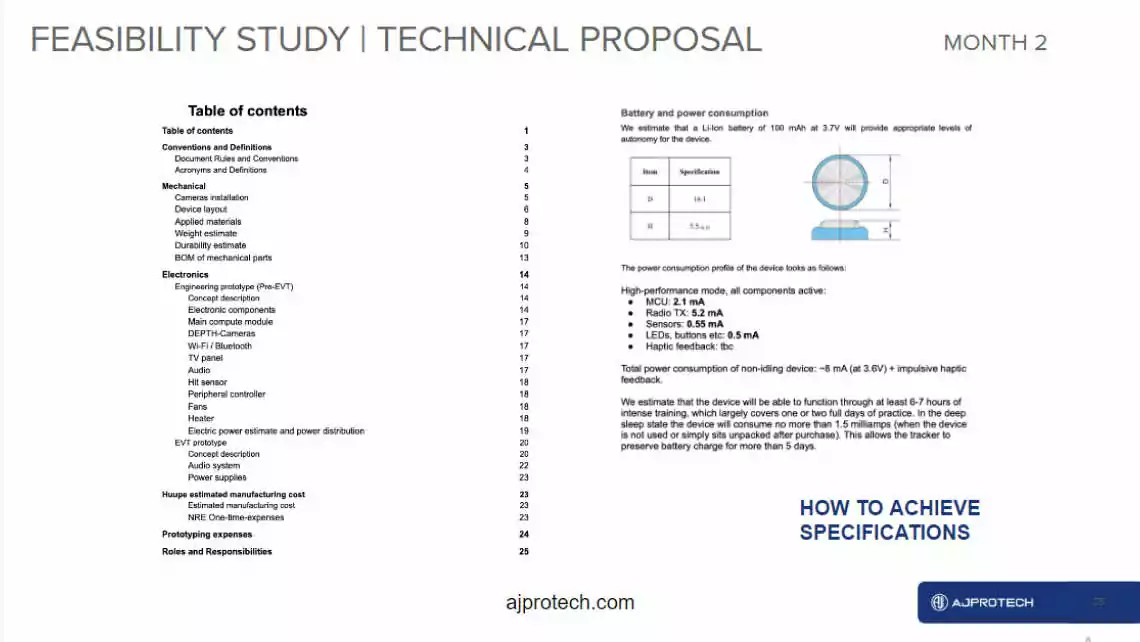 And finally, once you know what components go inside, how it is going to look, it pays off to put everything in a document. We call it a Technical Proposal.
Product Specification is documenting what need to create.
Technical Proposal is describing how you achieve those specifications.
This document is typically about 10 pages long, and it describes everything you found out.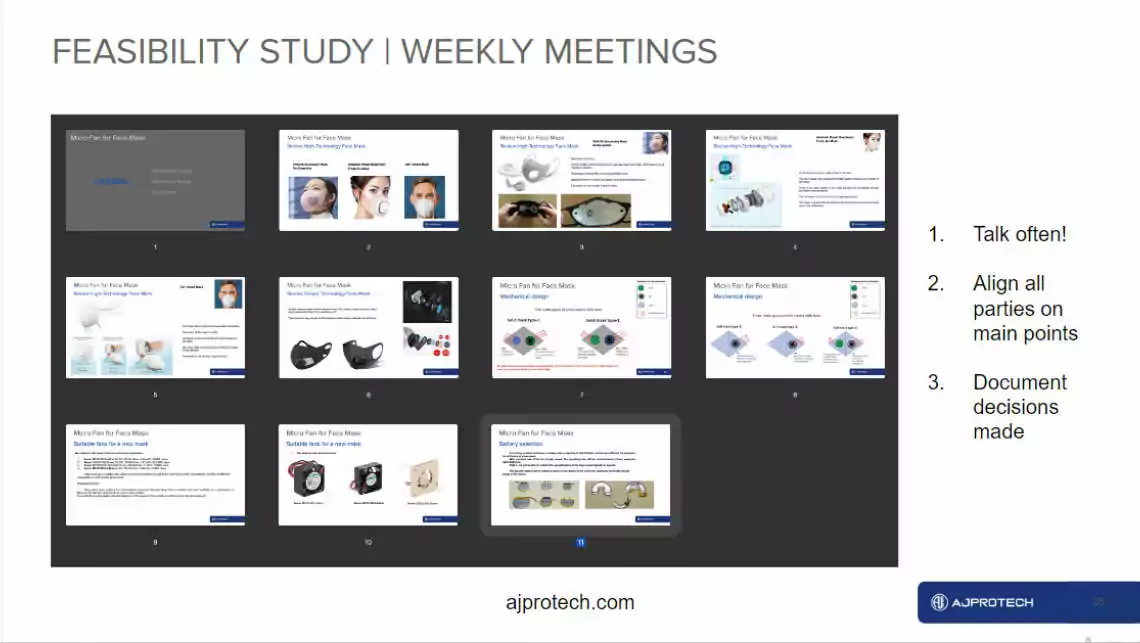 It's really important to align all the shareholders. We recommend having weekly meetings with all the engineers, product owner, and project manager. So they're all on the same page, document any decisions made and keep all shareholders aligned on the process.
Stay tuned for the next video where we'll talk about the next step – ENGINEERING PROTOTYPES
AJProTech team
Ajprotech.com