THE SOLUTION
One of the most efficient solutions is the organization of multi-level parking lots, where, with a minimum occupied area, you can place more cars than in the regular parking lot
In collaboration with New York parking operator, we developed an automatic parking system that solves the issue of parking space shortage.
The parking system consists of two levels with 7 individual platforms on top level and 6 on the ground level.
This way 13 cars can be parked instead of just 7. That is 85% increase in parking capacity!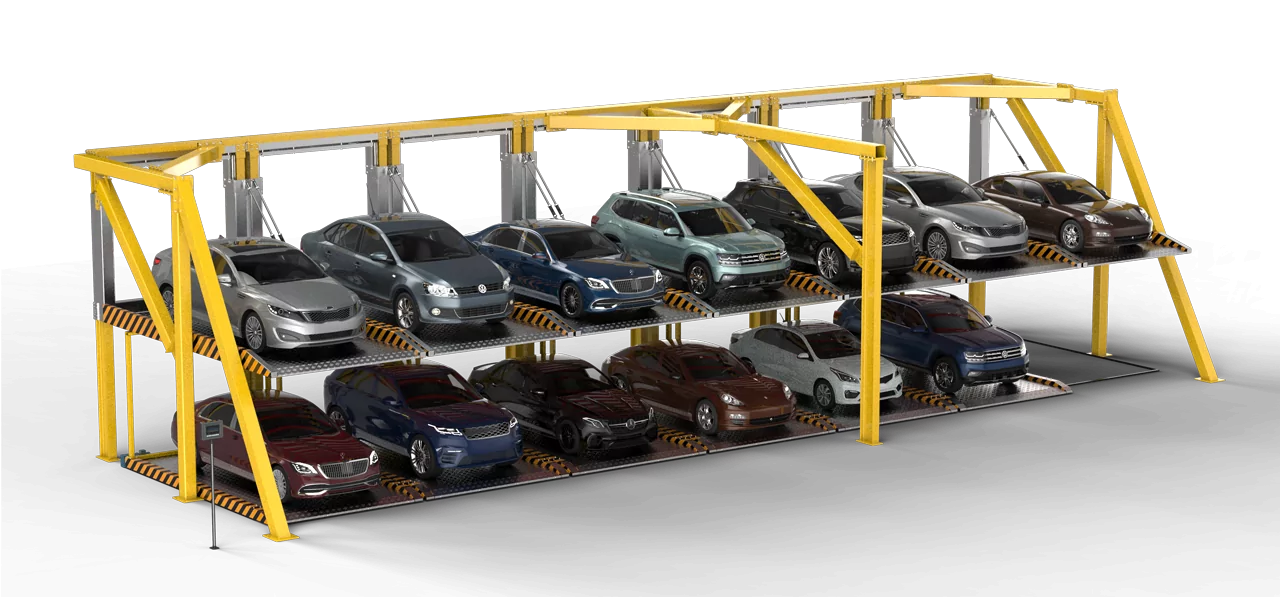 Fully automated multi-level parking stacker is designed for both indoor and outdoor use
OUTDOOR
Robust & weather-proof solution to last for years with minimal maintenance. Designed to fit most commercial parking lots & minimize car retrieval time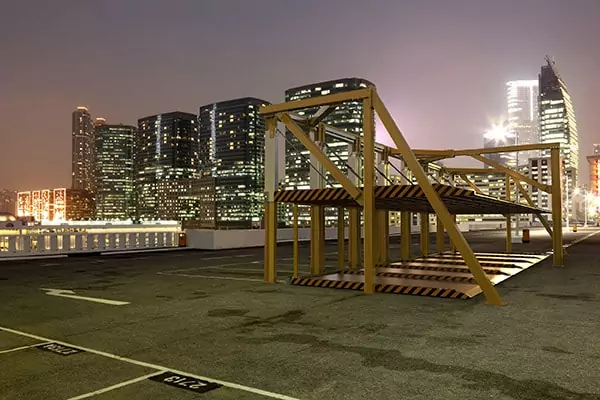 INDOOR
Space saving design allowing to fit even in most tight parking lots with minimal height. Ideal for residential apartment complexes and office buildings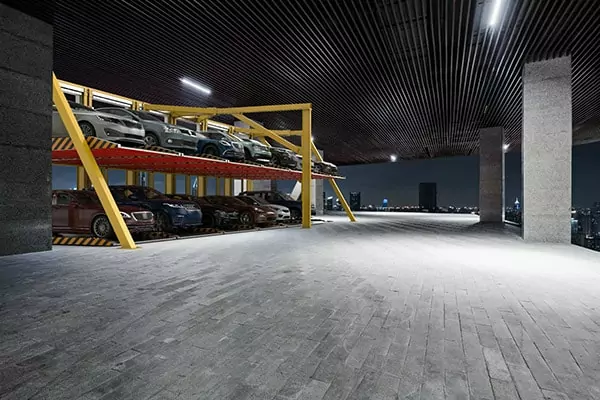 ADVANTAGES

SPACE SAVING
Increase parking capacity by 90% and install even in tight spaces. Sedans and SUVs can be parked
COST SAVING
Multi level parking reduces land cost.
Does not need valet personnel on site

TIME SAVING
No need to do circles in tight spaces.
Just pull the car to the platform in less than 30 seconds!

SAFETY
Cars are safely parked on the both levels.
Nobody is driving next to your vehicle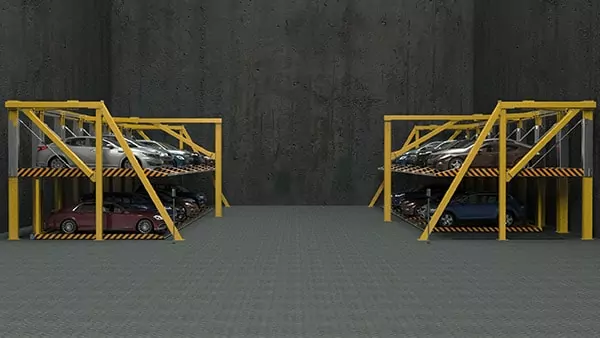 Multiple stackers can be installed on a parking lot to maximize space utilization.
Any car can be accessed individually thanks to automated system
Intended to be operated by drivers without dedicated valet service
HOW IT WORKS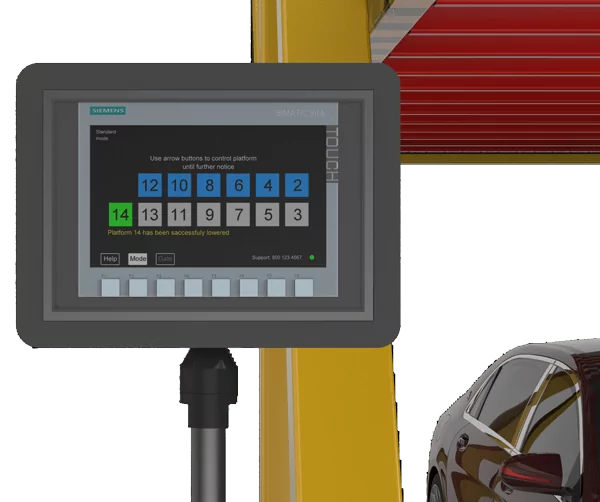 Control panel with touchpad screen allows drivers to park and retrieve their vehicles
Industrial PC is a robust solution to last for years
No special knowledge or valet personnel required
Each car on any level can be retrieved at any time by pressing a single button on control panel. Automation does the rest.
1. When driver need to retrieve a car from upper level, system moves the lower level platforms so that there is free space under the required platform
2. Next, top-level platform is lowered
3. Driver enters the car and drives away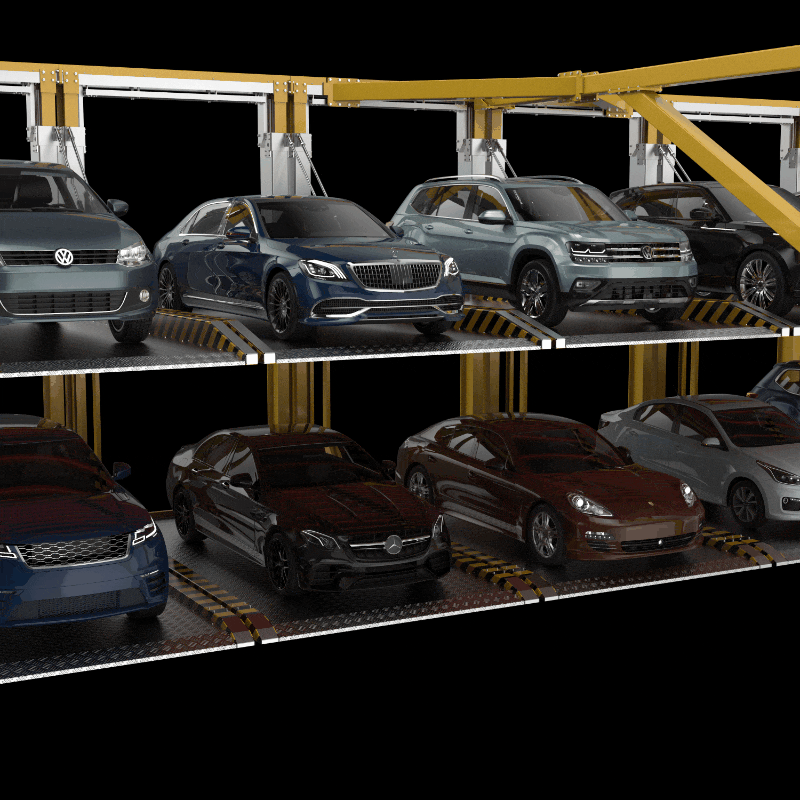 ROBUST DESIGN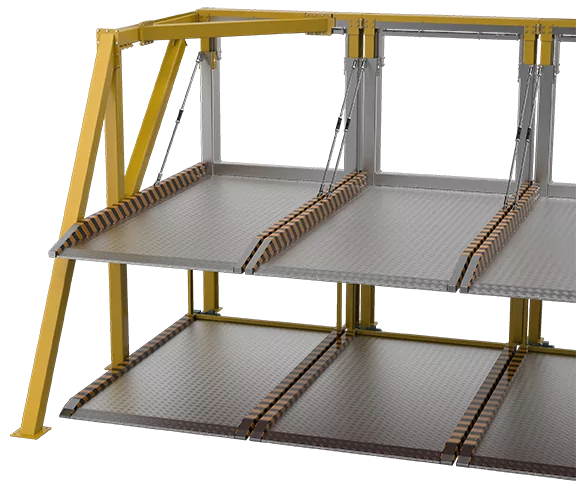 Fast and powerful motors are used to move platforms. Secondary mechanical system always protects in case of power outage
The fixed frame serves as the body containing platforms, hydraulic cylinders, geared motors and control panel.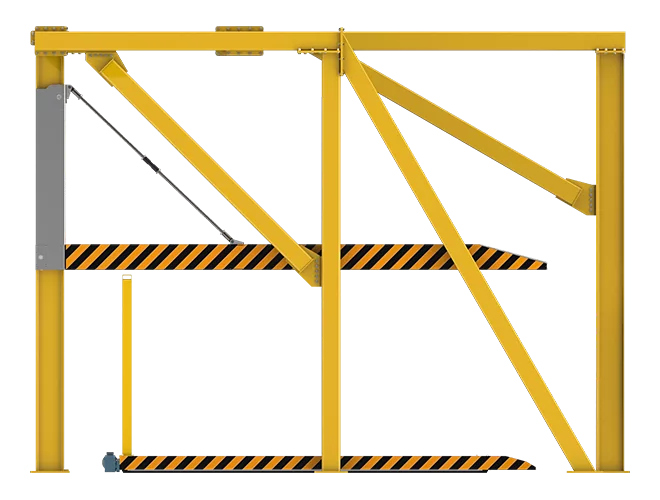 Each upper platform is mounted on top of two hydraulic cylinders located in the frame structure. Lower platforms have one geared motor to facilitate its horizontal movement on the floor guides.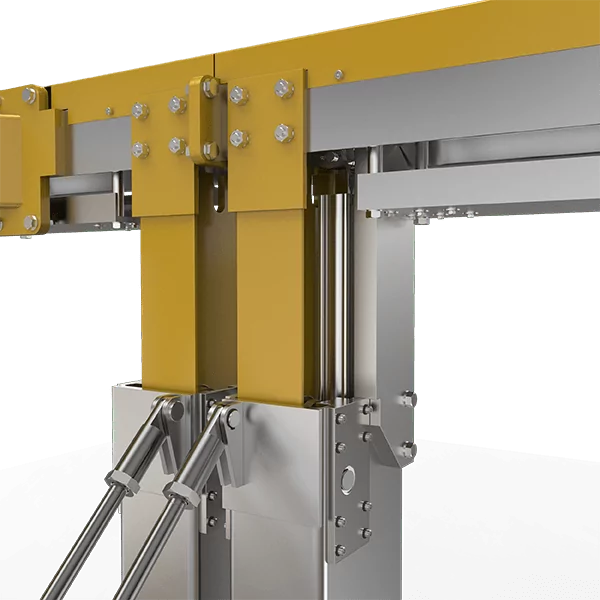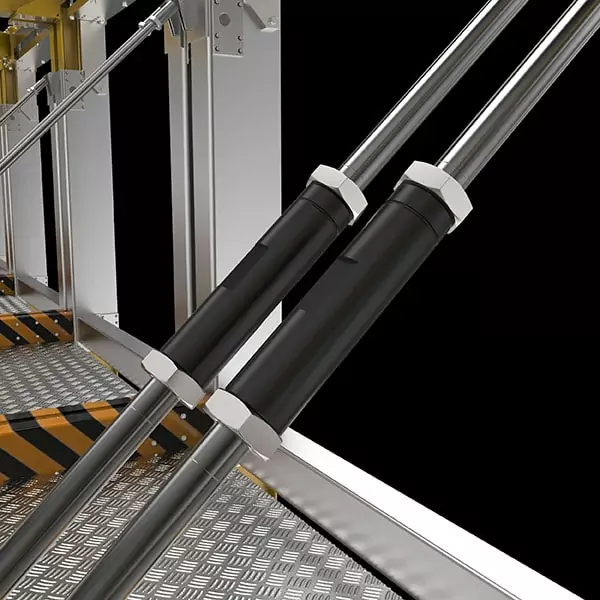 SPECIFICATION


13 Parking Spaces


Front and Near Parking


Indoor and Outdoor Use


Convenient Automated Control Panel


Permissible Car Weight up to 3 Tons


Remote Diagnostics & Updates
SOFTWARE
System is controlled by Industrial PC with Touchscreen Panel.
Minimalistic User Interface allows operation by any person without specialized skills.
Park and retrieve car

Any car can be retrieved
in one click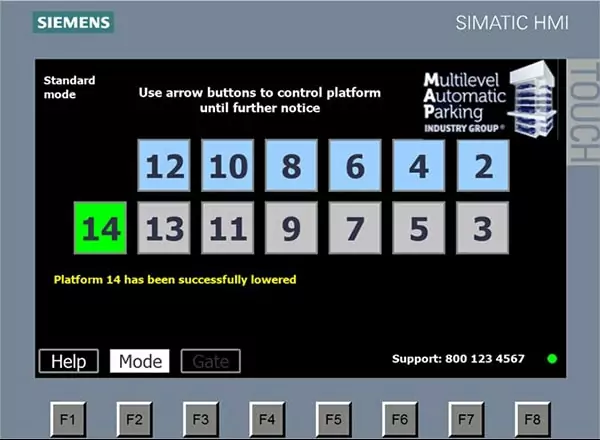 Versatile and convenient

Use either allocated parking spots or "first come - first serve"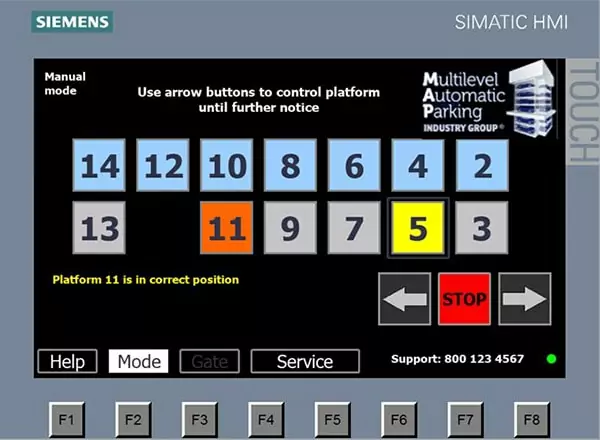 Remote monitoring & updates

Minimize number of maintenance trips with LTE module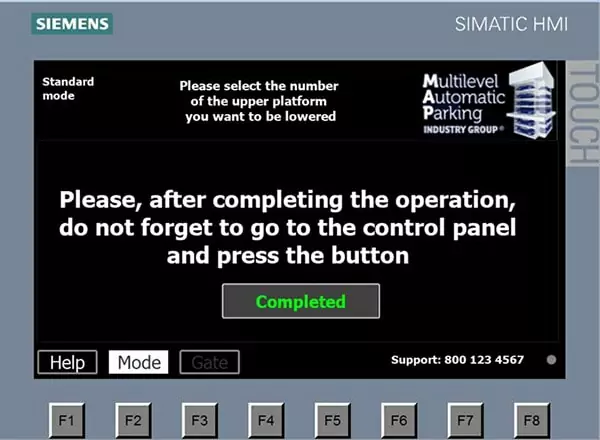 OUR TEAM PERFORMED
FEASIBILITY STUDY
Estimate commercial and technical analysis of the project. Select most suitable technologies
COMPETITOR ANALYSIS
Multi-level parking stackers are available from several suppliers. Developed system eliminates known flows and provide better cost per parking spot
MECHANICAL DESIGN
Calculations, design, detailed engineering, and rigidity validation for a 26,000 kg (57,000 lbs) metal construction with 500+ components
ELECTRICAL DESIGN AND AUTOMATION
Hydraulics to move platform up/down, Electrical drives for horizontal movement, safety sensors, industrial PC
SOFTWARE DESIGN
User interface, industrial PC programming, remote system diagnostics and software updates with LTE connection
MANUFACTURING SUPPORT
Working with vendors to optimize manufacturing time and cost
LAUNCH
And CELEBRATE