VhiSteam
Throne
Full-body hydrotherapy spa device
Category
Consumer electronics
IoT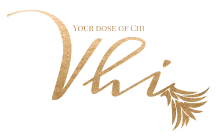 SERVICES
Full-Cycle Product Design
Electrical Engineering
Mechanical Design
Firmware Development
2021 - 2022
The Challenge
Chai Yok, also known as VhiSteaming, is a well-known oriental wellness practice, which addresses some of the most problematic physiological conditions for both man and woman, including irregular periods, menopause, insomnia, prostate disorders, infertility, cysts, and fibroids.Also, it is known for Lymph system detoxification.
However, most of the western world is still unaware of this practice, and only a few spa and wellness centers are able to properly apply the treatment due to the lack of appealing products.
The OPPORTUNITY
AJProTech partnered with Dose of Vhi, Manufacturer and Distributor of professional spa equipment, to build VhiSteam Throne - a revolutionary fusion of spa and wellness.
A full-body hydrotherapy steaming system extracts the healing benefits of steam and the ancient art of Asian Medicine for a holistic approach to internal wellness and self-care. But the throne is not limited to steam: it also applies true-spectrum infrared light therapy, helping to relax muscles, decrease stress and anxiety levels, and often providing pain relief.
AJProTech led development of VhiSteaming system - from conceptualization to production of the first batch.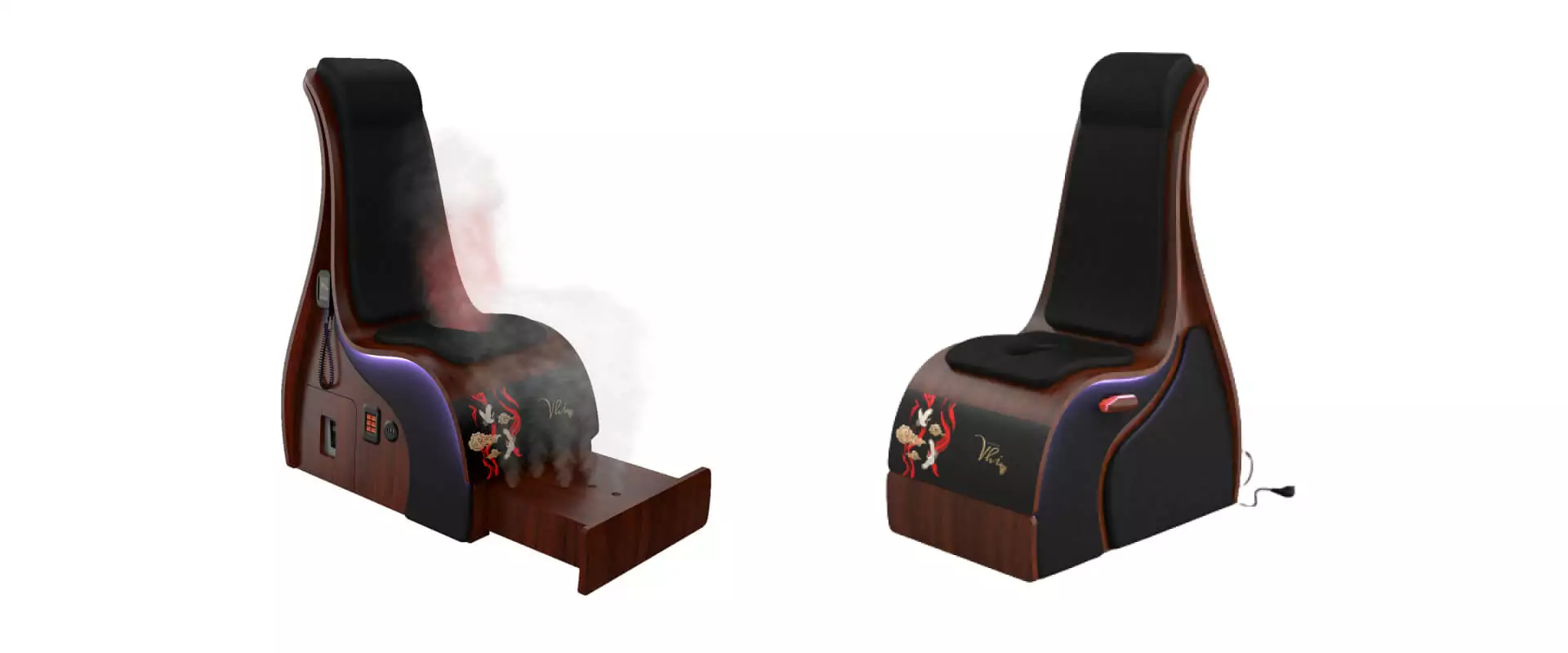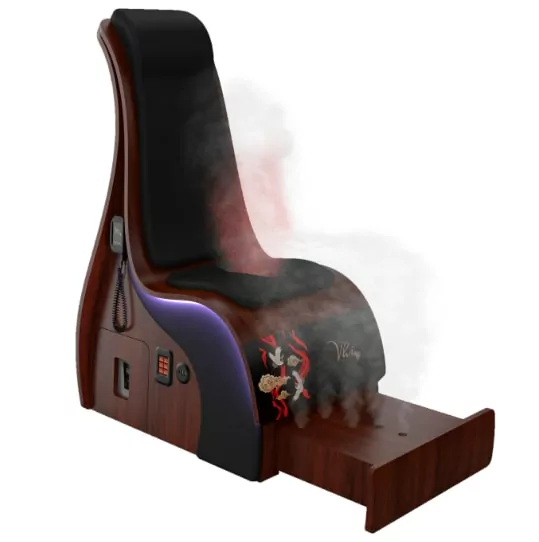 THE SOLUTION
The VhiSteam system is created in a form of a Spa Chair made of premium wooden materials. Patient receives steam and IR therapy in strategic locations. VhiThrone includes steam generator, infrared lamps to provide true-spectrum infrared light therapy, and an intelligent control system. The control system allows the user to precisely set the comfortable temperature, therapy time, and monitor heart rate. Remote controller with touch screen gives the user the convenience of controlling the therapy at the palm of their hand.
VhiSteam Throne features:
Steam therapy
IR Light therapy
RGB LED backlight
Remote controller
Heart rate Monitor
USB port for phone charging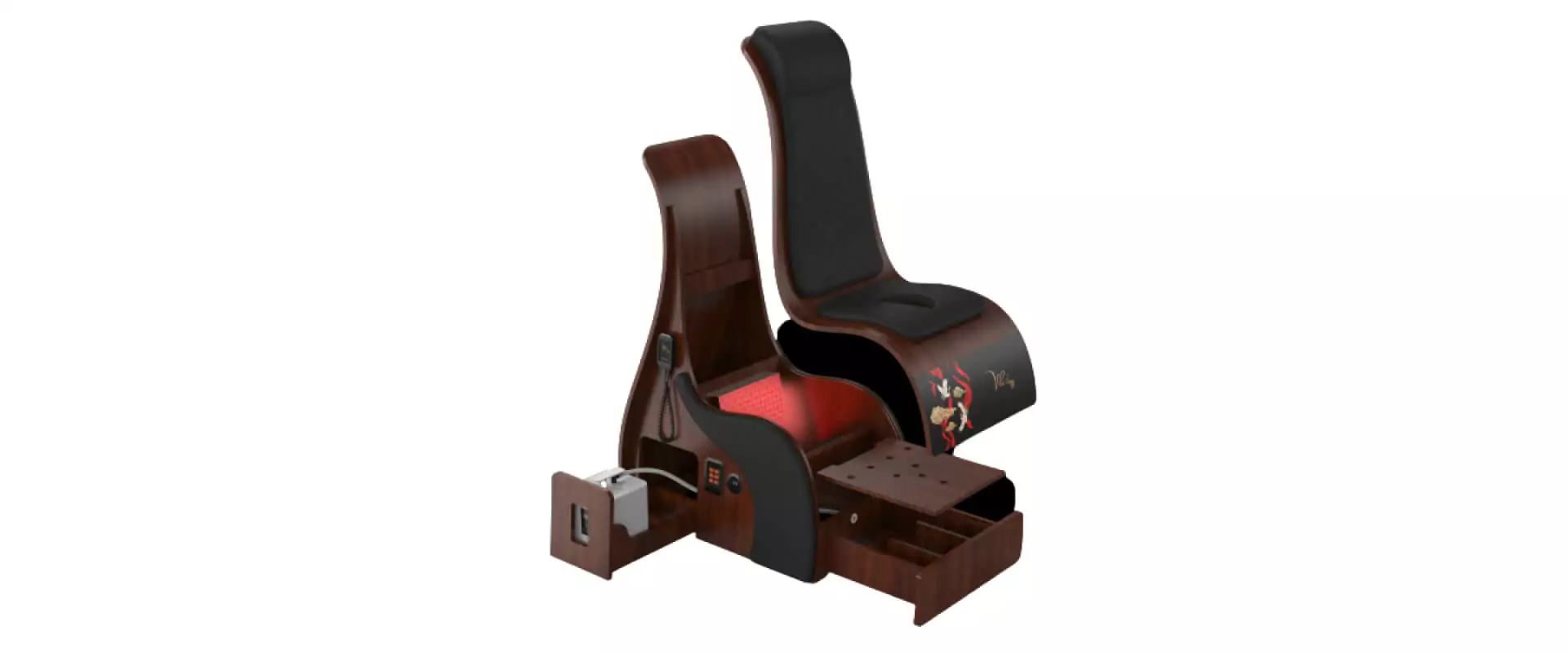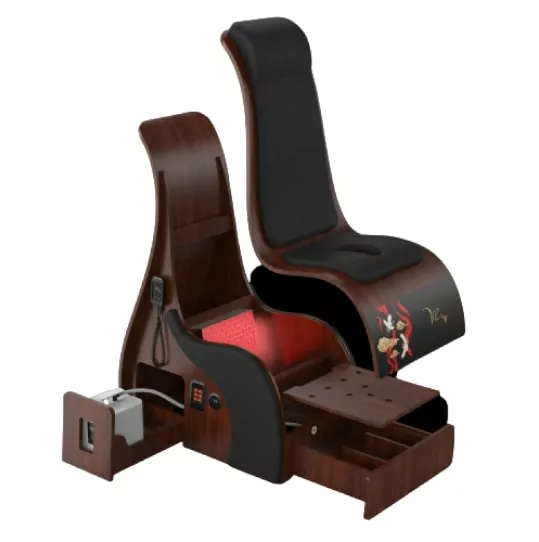 Our approach
Dose of Vhi offers a line of products that blend traditional Eastern practices and modern technology. When clients come to a spa center, they expect nothing less than premium look and feel, attention to every detail, and a bit of miracle. Our main priority was to create an outstanding user experience with a combination of treatments, premium materials, and smart control system.
From inception of product development, we pushed the boundaries of mechanical design and material study. Project started with intense validation of various sorts of wood to withstand operation in high temperature and humidity.
During electronics design, we paid most attention to supply chain optimization. We created a custom IoT control module to work with an array of off-the-shelf electrical components. Wireless WiFi connectivity made design future-proof with over-the-air firmware updates.
We used Agile iterative approach and prepared design for low-volume manufacturing in just 2 iterations of design and prototyping.
Product Design
Consumer product development always starts with Product Design. AJProTech's designers went through dozens of sketches and 3D renders to create a VhiSteam Throne design that blends together ancient Eastern practices with invisible modern technology. Curved lines, cedar wooden finish, and premium leather create a beautiful, elegant, and comfortable spa chair. We used eco-friendly cedar wood with natural water protective finish was used to withstand constant operation in high humidity and high temperature.
Electronics is seamlessly integrated: ambient LED backlight sets the mood, touchscreen remote controls steam and infrared therapy, and smart sensors gives full control during treatment.
We achieved the goal of creating an eye-catching design that is both functional and convenient. Design for Manufacturing is in our DNA - we made sure design is suitable for both low- and medium-volume manufacturing without expensive tooling.
STEAM THERAPY
Heart of VhiSteam Throne is a powerful steam generator producing warm steam from distilled water or aromatherapy mix. Steam is applied through the openings in the seat and footrest. During therapy, patient covers their body with a blanket to equally distribute and moisturize entire body. Smart electronics controls temperature and intensity of the steam. Steam generator sits in an easy-to-service removable compartment.
Combining the detoxifying benefits of steam and the restorative capabilities of True-Spectrum Infrared light therapy, VhiSteam Throne helps to relax the muscles, lessen stress and anxiety, and provide pain relief. VhiSteam Throne is also effective for a more comfortable waxing session due to pore relaxation and analgesic properties of herbs that can be added to the water.
Hardware design
Electrical Engineers at AJProTech are experts in IoT Product development. We have a proven process designing consumers electronics products. Starting with system architecture and components selection, we reliably produce future-proof and cost-effective IoT hardware designs. Our Design for Manufacturing (DFM) experience helps covering the entire hardware product development - from early prototypes to mass production.
VhiSteam Thone is controlled by a custom PCB optimized for production cost and manufacturability. Brain of system is ESP32 wireless module with WiFi and Bluetooth Low Energy (BLE). Main functions of the board are to control Steam Generator and Infrared Lamp, provide user interface on Touchscreen Remote Controller, and collect data from Temperate and Heartrate sensors. Firmware is designed with Over-the-air update functionality to deliver new features through WiFi connection.
One of the requirements for Electrical Design was water resistance to withstand continuous operation in high humidity - and we delivered on that.
We paid particular attention to component cost to simplify supply chain. With global chip shortage, it is absoltely essential to think about procurement before making design decisions. AJProTech has close connections with electrical components distributors - we analyze supply chain for each component before it goes into electrical design and PCB layout. As result, hardware designs done by AJProTech can be easily scaled from few prototypes to mass production.
Infrared therapy and ambient Light
Acting as an auxiliary treatment, true-spectrum infrared light therapy is also possible in the VhiSteam Throne. It uses low EMF infrared lamps to combine the healing features of near, mid, and far-infrared wavelengths. Infrared therapy may be used to address many conditions including irregular periods, menopause, insomnia, prostate disorders, infertility, as well as cysts and fibroids; all while detoxifying the Lymph system.
Ambient LED backlights are seamlessly integrated to lit up the surroundings and promote a calm and relaxed atmosphere with smooth transition from one color to another. Both infrared light and LED backlights are configurable through a remote controller.
Remote controller
VhiSteam Throne can be operated by a 5" Touchscreen Remote Controller. We've designed a custom remote in an ergonomic enclosure around an LCD module with touch-friendly User Interface.
Remote connects to the system with USB cable. Remote controller can automatically pull latest Software from remote server with Over-the-Air (OTA) Firmware update through WiFi connection. Ability to easily update software is essential to all Consumer Electronics products these days.
Secondary 4" touchscreen controller is built into the chair for quick access to mission-critical functions by Spa center personnel like remaining time and temperature.
Our software team designed User Interface (UI) to access all functions:
Steaming duration and temperature
Infrared light therapy duration
Heart Rate and Temperature
Ambient RGB light color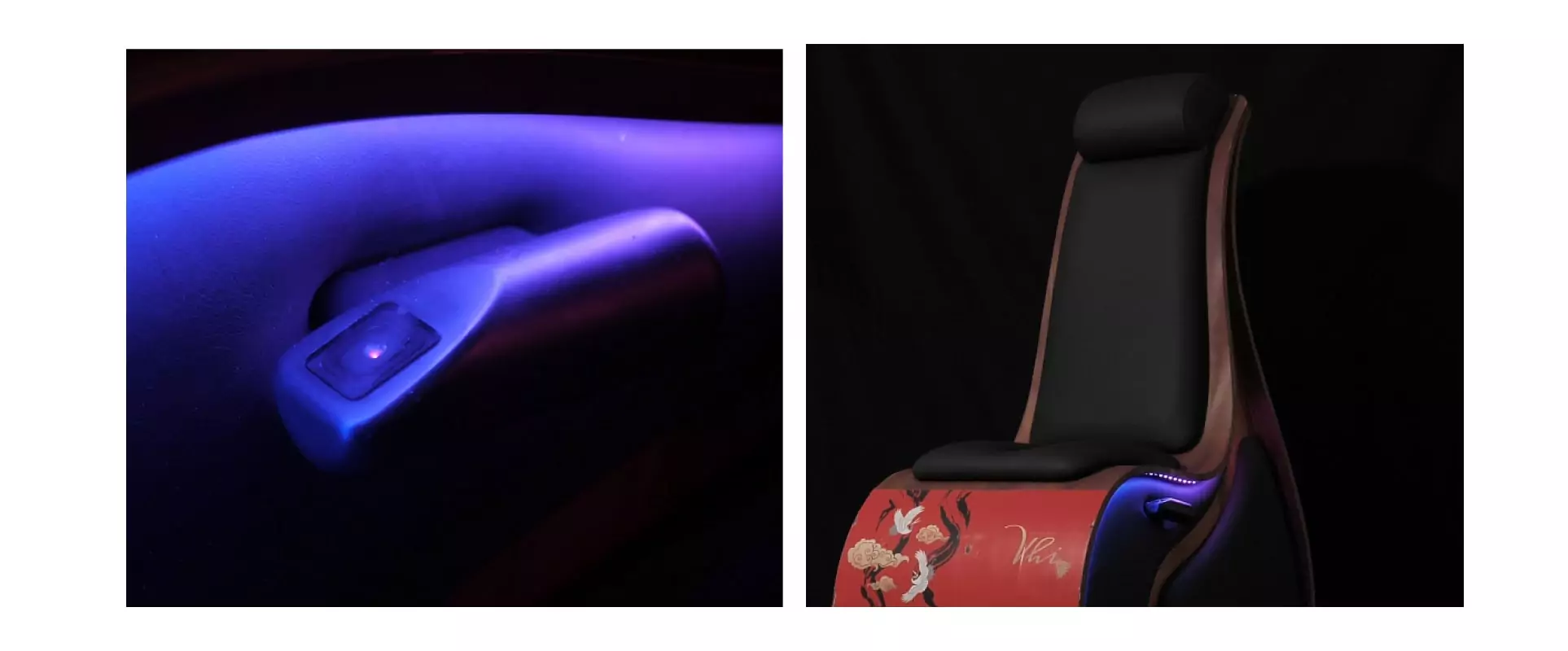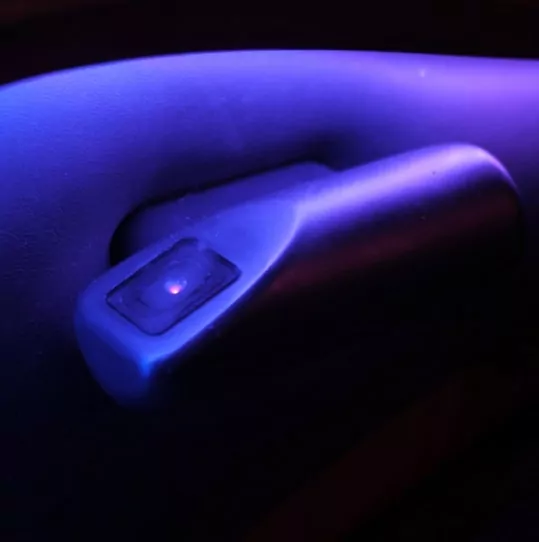 Heart rate and temperature Sensors
The heart-rate sensor is built into the side handle to continuously monitor patient HR during treatment. Patient can observe the results in real time and adjust treatment program, if needed. We've used optical sensor protected by glass cover for temperature/humidity protection
Temperature is also measured in real-time and may be used to automatically adjust steam settings. As a part of next firmware releases, steam power and duration may be set by spa personnel based on historical measurements for each patient. Both Heart Rate and Temperature data are displayed on the remote controller screen.
PROTOTYPING
When design files are completed and manufacturing drawings are prepared, it's time to create engineering prototypes. We usually produce 3-5 samples and run them through series of tests. VhiThrone required a lot of custom wooden components be made to order and most manufacturers usually require substantial MOQ (Minimum Order Quantity). We used our network of Contract Manufacturers to rapidly produce wooden and custom leather parts without high installation costs or expensive tooling.
Small batch of custom electronics PCB boards can be manufactured and rapidly assembled on a SMT line or manually in 3 weeks. We have equipment to assemble and test a small batch of PCBA prototypes. Each PCBA prototype goes through Bring-up and Validation by our Electrical Engineers. PCBs are tested, programmed, and signed off for installation in the prototypes.
HOW IT WORKS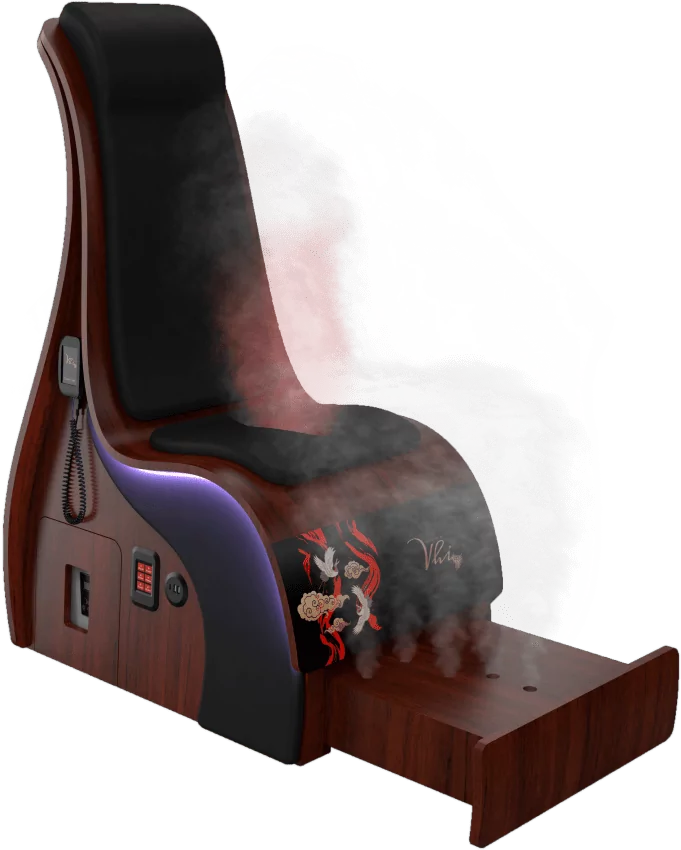 01.
Built-in steam generator produces steam from distilled water or aroma mix. Steam is delivered through the opening in the seat.
02.
While patient sits under the blanket, retractable footrest with steam channels delivers full body hydrotherapy.
03.
Full Spectrum Infrared light therapy and beautiful ambient LED lights provides pain and stress relief.
04.
Patient may set steam temperature, treatment duration, and control heartrate through 5" touchscreen remote controller
PILOT AND VALIDATION
We had an ambitious goal - deliver first batch of pilot prototypes to end customer as commercial units. We took on this challenge and delivered revenuable pilot units without MOQ.
Once mechanical prototypes and all components arrived to our workshop, AJProTech engineers and technicians installed electronics and assembled pilot prototypes, fast and efficient. Pilot production brings up a lot of knowledge and ongoing improvements as first units are assembled. Our engineers are fully prepared to bring adjust on the go and improve the assembly process.
Each component needed to be tested separately and as a part of the system. Steam generator and steam pipes has been tested for long term stability. Wooden parts have been covered by a protective layer to withstand high temperature and humidity. Power supplies, infrared light, and custom electronics went through thermal stress tests to ensure stable operation. Remote controllers were manufactured and tested.
Pilot units have been successfully assembled, tested, and shipped to clients. In this project, AJProTech acted as a single stop solution to deliver not just engineering designs but a small batch of commercial units. Design files and assembly instructions prepared for a contract manufacturer to ramp up production.
Impact
First batch of VhiSteam Thrones was manufactured, tested, and delivered to clients.
Dost of Vhi, the U.S 1st manufacturer and distributor of professional V-steaming products, is taking orders from Spa salons across the United States, Fitness Enthusiasts, Celebrities and notable clients. Due to its luxurious appeal, Vhi often attracts high-end clients.
We believe VhiSteam Throne has a potential to revolutionize the spa experience and promote holistic approach for optimal wellness worldwide.
Download this case study
Get a PDF version of case study to download and share.