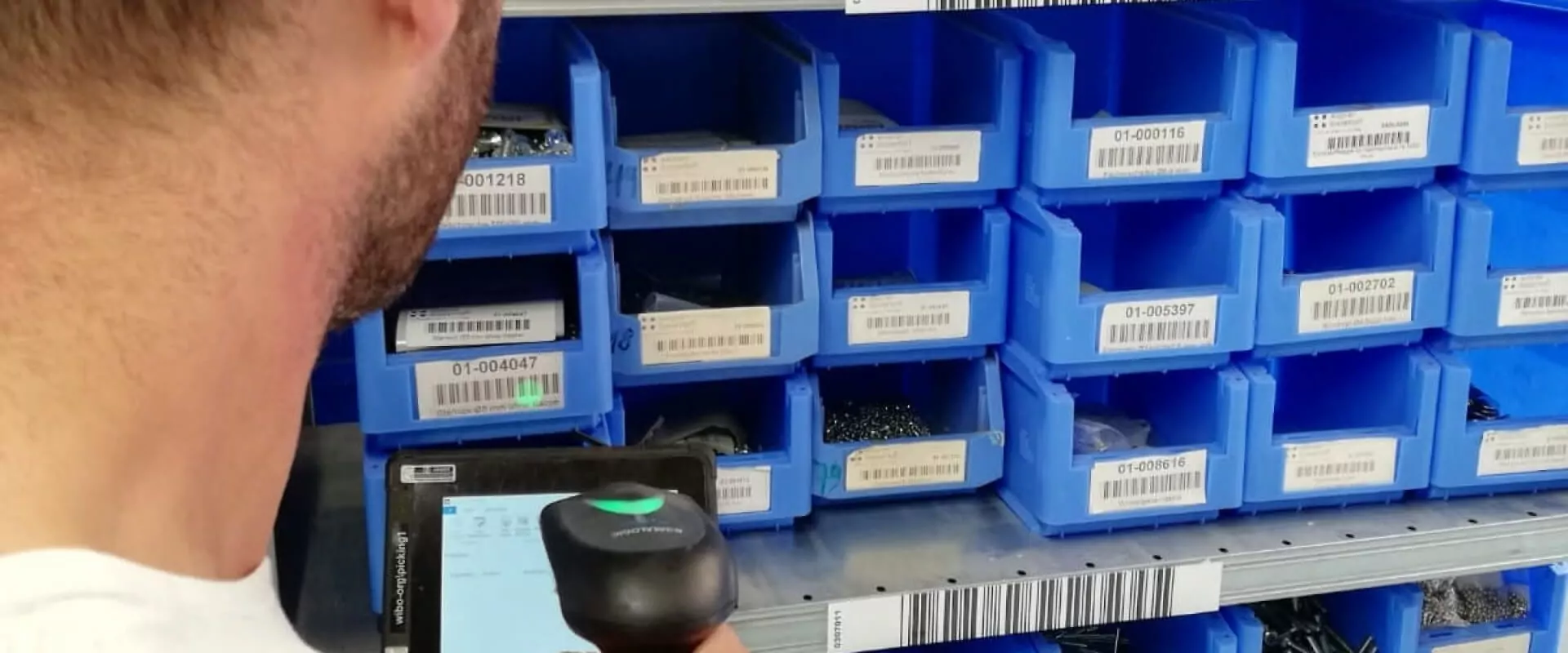 warehouse automation system
Category
Industrial Electronics
Software Development SERVICES
Electrical development
Mechanical design
Firmware development
Software development
2019
The Challenge
It's a well-known fact: Warehouses are messy. Inventory accuracy, redundant processes, and fluctuating stock levels can disrupt operations for businesses big and small. Especially if you are dealing with small components that are difficult to count.
Most warehouse automation solutions are developed for large warehouses. Automating inventory tracking in medim-size warehouses seems like a mission impossible without significant capital expenses.
THE OPPORTUNITY
AJProTech partnered with MRO Supply, a global distributor of industrial and conveyor products. Since 1898, MRO Supply stocks and distributes millions of parts from hundreds of suppliers. Together we created a solution for warehouse stock control automation.
Small inexpensive components (screws, bolts, etc) are traditionally measured by weight. To automate stock control levels, we've designed a compact scales built into standard warehouse bins. Control system receives data from individual bins and updates warehouse management software through wireless WiFi connection.
AJProTech led full-cycle development of IoT system - from conceptualization, through hardware engineering, to production of the first batch.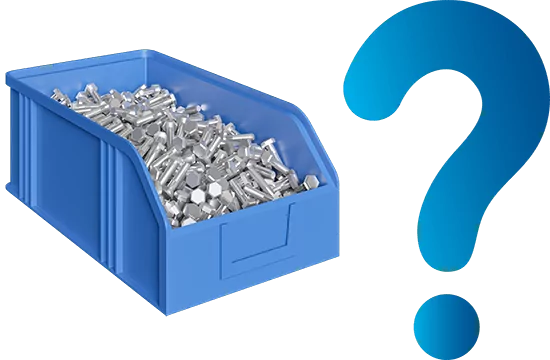 Head office needs to know current stock balance from all warehouses. This inventory management task is usually done by personnel with portable weighing scales and digital record-keeping devices. But with more than 100,000 product names in the inventory, it is an operational nightmare that takes an enormous amount of time.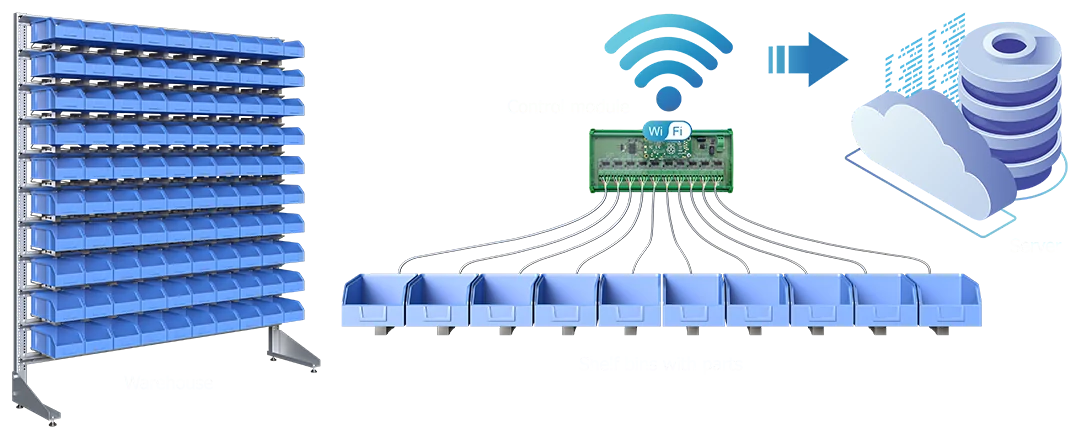 We designed and developed a remote weight measurement device to specifically address this problem. The device is a multi-channel system for measuring the weight of individual boxes containing the components in a warehouse rack and sending information to the server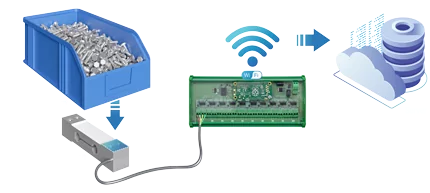 Each container box is mounted on an individual weight sensor, which are then connected to a control module that measures, calibrates, and transfers information to the enterprise requirements planning (ERP) system via WiFi. This control module is implemented in a compact form factor mounted on the rear panel of the warehouse rack.
ERP server receives total weight of the stock-keeping unit and performs the calculation to determine number of components available. ERP server may then update the quantity posted on the online store to keep it real-time.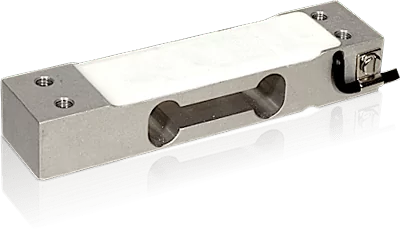 The analog weight is determined by a weight sensor called "load cell". A load cell is a physical transducer that converts force (mechanical input) into voltage (electrical output).
VIDEO OVERVIEW OF THE LOAD CELL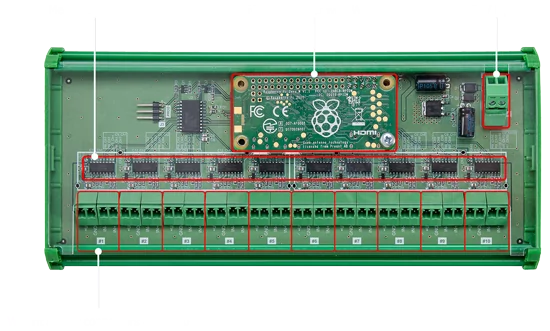 The weight measurement control module has 10 ADC channels to cover one shelf. Thus one control module can monitor ten stock-keeping units on the rack, further increasing its utilization value. Multiple modules may be daisy-chained to further reduce the hardware cost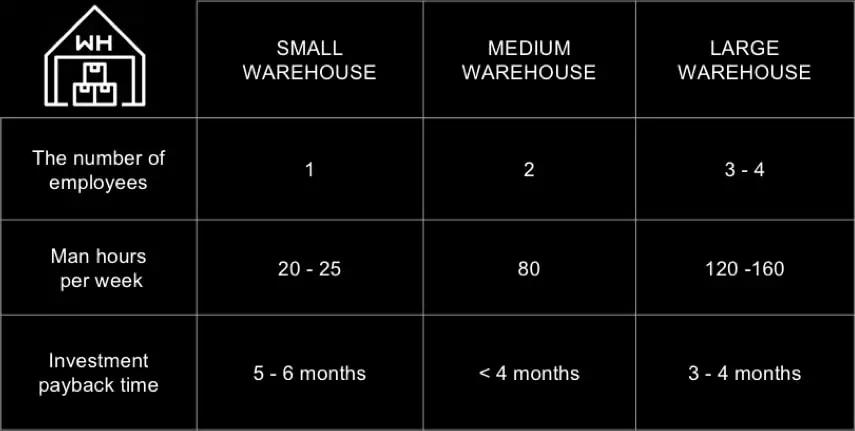 WANT TO GET YOUR WAREHOUSE AUTOMATED?
We have standard solutions and can customize for you! Heart our system is a slim automation module that is mounted under the bins. Our system can work both with your existing shelves or you can buy an entire shelf. Software comes with API to push data to CRM of your choice. Contact us to discuss how we can transform your warehouse into SMART WAREHOUSE!
OPTION #1
Buy a smart shelf

We partner with shelf manufacturers to provide plug-and-play solution
OPTION #2
Upgrade existing shelves
Purchase automation modules and install in your existing warehouse.
Our engineers will provide drawings and instructions